5 New Productivity Apps Based on Classic Productivity Principles
Productivity is a tricky thing. Your job and your goals evolve with time, so the same app might not work as well as it once did. If you're in a rut, it helps to check out new productivity tools. Who knows, you might find the right app for the right time The 3-Strike System: How To Prioritize Your To-Do List Are you not getting through your to-do list? The problem might not be your productivity, it might just be your priorities. Let's learn how to prioritise the to-do list, and get things done. Read More .
Advertisement
There have been a few new apps in the recent past that caught our eye. None of these is a radical reimagination of basic productivity principles Single- vs. Multitasking: What's Best for Productivity? Multitasking is a common method to increase productivity. Turns out it's not necessarily the silver bullet for productivity. The key is to know when to multitask. Read More . These apps only implement those principles in a new way, which is all the boost you sometimes need.
1. Zask (Web): Make a To-Do List and Track Time for Each Task
One of the basic principles of productivity and time management is to figure out how much time you take on a task. Zask is the simplest app to do this.
You can use it without signing up 15 Excellent No-Sign Up Websites for Everyday Use Do you like websites which have no sign-ups, no registerations, and no downloads? Then, you will like these hassle free web apps and sites which make daily productivity a lot easier. Read More , but logging in would save your list for later. Plus, it lets you create multiple lists that can be activated at any time.
Once you have your to-do list in front of you, click the "Play" button on any task to start a timer. When you're done with it, click "Pause" or mark the task as complete to stop the clock.
Advertisement
Over time, you'll build up neat data about how long certain tasks take you. This can help you streamline your processes and make better time management decisions. And if you like this productivity system, then you might want to upgrade to the best time-tracking app for Android, iOS, or desktops The Best Time Tracking App for Android, iOS, and Desktop We show you how time tracking can benefit you or your team, what to look for in time tracking software, and the best cross-platform application we could find for the job. Read More .
2. ToDo Tab (Chrome): Task List in New Tab With Auto-Labelling
ToDo Tab focuses entirely on your tasks and nothing else. There are no beautiful wallpapers or other distractions on the screen. Every time you open a new tab in Chrome, you'll see your to-do list and nothing else.
ToDo Tab has a smart feature that puts it above other such productivity-focused new tab extensions 10 Most Productive New Tab Extensions For Google Chrome When you start a new tab in a browser, are you looking to go somewhere or are you looking for information to come to you? Google Chrome has many extensions to make it productive. Read More . It auto-labels common activities in different colors. Each of the labels is a verb, following the productivity principle that you should list each task by starting with a verb. Currently, ToDo Tab auto-colors the following labels: send, mail, reply, post, call, meeting, discuss, brainstorm, buy, get, book, order, work, personal, write, draft, and publish.
The extension is completely free, and should work with other Chromium-based browsers like Opera How to Install Google Chrome Extensions in Opera Browser Opera is making a case for you to switch to it. There's one small problem: extensions. What if you could install Chrome extensions in Opera? It's easy, so here's a quick guide. Read More . As best practice, read through ToDo Tab's Help page before you start. There's some good advice in there.
Download: ToDo Tab for Chrome (Free)
3. Lyster (Android, iOS, Web): Snooze Tasks to Prioritize To-Do List
The key to a good to-do list is figuring out how to prioritize it. Productivity principles like the Eisenhower Matrix How to Prioritize Tasks With the Eisenhower Matrix Productivity System Do traditional to-do lists not work for you? Do you feel overwhelmed or do you have trouble keeping your list under control? Try the Eisenhower Matrix. This productivity method can simplify complexity. Read More are great when you want to sit down and triage your list. But in practical everyday use, you add and remove tasks too frequently in the day to organize the list. Lyster helps you prioritize tasks by "snoozing" them for later.
Create your task list as you want. But see that little clock icon next to it? Click or tap it to launch a quick "snooze for later" menu. In another tap, you can put that task off for later, and set up an automatic reminder for it. The default options are later today, tomorrow, tomorrow evening, this weekend, next week, and in a month. You can also set a custom reminder for later.
The minute you snooze it, the task will be removed for your active to-do list, and added to the "later" list. Out of sight, out of mind — until it's time to actually tackle it. In short, Lyster is a distraction-free tool to prioritize your to-do list.
Download: Lyster for Android (Free) or for iOS (Free)
4. Moo.do (Web, Windows, Mac, Android, iOS): Gmail + Tasks + Calendar
Moo.do has been around for some time, but its third version hits the right notes. If your email inbox doubles up as a task list, this is the app to use.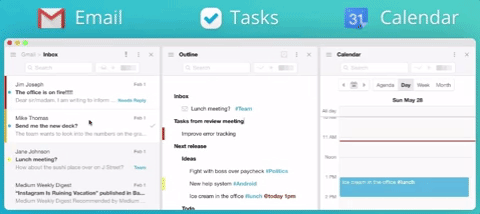 The Moo.do app reminds you of Sortd for Gmail Turn Gmail Into A Trello-Like Task Board With Sortd In the modern workforce, your email often turns into your task list. Well, now you can get Trello-style organisation right in Gmail with a new Chrome extension, Sortd. Read More with a similar Trello-like arrangement. Your emails are in the first pane, your tasks in the second, and your calendar in the third. You can create more projects and set up different panes. It's an intuitive system to drag-and-drop items as needed.
Try out the free version of Moo.do first, which offers most of the features you can expect in the $5-per-month premium version. The free version doesn't offer Google Calendar sync though, which you might miss terribly.
And take our word for it. The desktop apps for Windows and macOS perform much better than the browser-based web version of Moo.do.
5. To Round (Android, iOS): Visualize Tasks as Bubbles of Different Sizes
A long list of tasks can be overwhelming. And there's also the question of prioritizing those tasks by importance. Several experts and enthusiasts believe that visual to-do lists can power your productivity How Visual To-Do Lists Can Power Your Personal Productivity Do you like visual to-do lists or do linear lists make you more efficient? We look at five visual tools that are make your daily planning more interesting. Read More .
To Round turns all your tasks into bubbles. When you are setting a new item in your list, you choose how important it is. That sets how big the item's bubble will appear. You should also label the task in one of the categories, so the bubble displays an appropriate color.
Do it right and To Round will help you figure out what to do next with a single glance at your to-do bubbles. The color lets your mind distinguish between work or personal tasks, while the size tells you what's the most important thing to do next. Since the bubbles are dynamic, your mind eliminates the chronological order of a list.
Download: To Round for Android (Free) or for iOS (Free)
Are Productivity Apps Overrated?
It seems like all of us are more obsessed with apps about productivity these days, than actually being productive. In fact, productivity apps don't appeal to some people How to Be Productive When Productivity Apps Don't Work for You You should noticed that the past few years have been about an obsession with productivity. But what if productivity apps don't do it for you? Then what do you do? Read More , but they still manage to get more things done.
What do you think is more important: the base productivity principle or how an app implements it?
Related topics: Cool Web Apps, Productivity, Time Management, To-Do List.
Affiliate Disclosure: By buying the products we recommend, you help keep the site alive. Read more.