Giphy Helps You Learn Sign Language Using GIFs
Giphy has added 2,000 GIFs designed to help you learn American Sign Language. These GIFs, which contain one word or phrase apiece, have been clipped from Sign With Robert. It turns out that GIFs are a surprisingly effective way of learning sign language, so there's now no excuse not to try.
Advertisement
As most people are already aware, GIFs are short, silent, looping video clips. Although they have been around since 1987, they've exploded in popularity in recent years GIFs, The Language Of The Web: Their History, Culture, and Future Everything you ever wanted to know about the history of GIFs, how they've evolved, and their cultural impact and significance. Read More . While GIFs are generally used for fun and frivolity, Giphy has discovered they can be used in a more meaningful way.
Learn to Sign With Robert
Giphy has launched a new channel containing 2,000 GIFs clipped from Sign With Robert, an educational sign language series starring Robert DeMayo. Each GIF is simply Robert demonstrating an American Sign Language sign with the word or phrase displayed alongside him. As you can see in the "Rolling on the Floor Laughing" GIF below.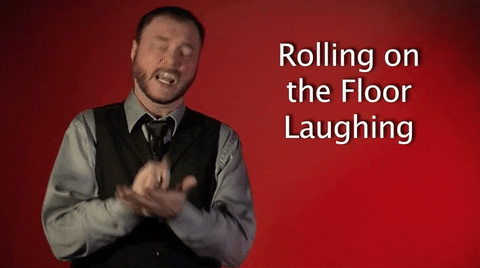 The Sign With Robert GIFs now on Giphy cover a wide range of topics, including the weather, emotions, sports, cooking, and holidays. You can browse the GIFs by topic, or just dive in and learn random signs. And as GIFs are silent by design, deaf people can also brush up on their sign language.
As well as all being compiled into a single channel, these GIFs will be displayed alongside other GIFs when anyone searches for a specific word or phrase. Thus, even if people aren't intentionally setting out to learn sign language, they will still be exposed to it.
Advertisement
The Perfect Tool for Learning
Most of you reading this will have tried to learn a new language How I Finally Learned a Different Language. And You Can Too. No single language learning app is the magic wand. The secret to learning a new language is a blended solution. With desire and motivation you too can learn any foreign language. Read More at some point in your life. I personally use Duolingo to pick up the basics before heading off on vacation. However, while learning a foreign language is challenging, learning sign language is something else altogether. Which is what makes this such an ingenious idea.
As Hilari Scarl, the producer and director of Sign With Robert told Mashable, "GIFs, as a visual format untethered from audio, makes them a perfect medium for sign language. The looping format makes it a perfect tool for learning through repetition".
Do you know any sign language? If so, how did you learn? Are you interested in learning? If so, will you now be using the Sign With Robert GIFs on Giphy? Can you think of any other way GIFs could be used to educate and inform? Please let us know in the comments below?
Image Credit: DaveBleasdale via Flickr
Related topics: GIF, Giphy, Language Learning.
Affiliate Disclosure: By buying the products we recommend, you help keep the site alive. Read more.
Advertisement