5 Free SoundCloud Apps to Stream, Discover, or Download Music
SoundCloud often flies below the radar of streaming music services. But if you like listening to songs online for free, it's as good an option as YouTube. And with the right apps, maybe even better.
Advertisement
It's a misconception that SoundCloud is a place only for indie bands. And even if you use Spotify, Google Play Music, or Apple Music, there are some good reasons to use SoundCloud 7 Reasons Why You Should Start Using SoundCloud Today SoundCloud is often thought of as a hangout for indie kids and backyard bands - a place to discover new music. And that's true to an extent, but it's far from the full story. Read More as well.
As always, all the apps listed here are completely free. While music is the primary purpose, you can use them for podcasts, audiobooks, and other audio on SoundCloud too.
1. Auryo (Windows, Mac, Linux): The Desktop App You Always Wanted
Since SoundCloud doesn't have its own player for Windows, Mac, or Linux, Jonas Snellinckx is filling the void. Auryo is the perfect desktop client for SoundCloud.
It's a simple player to stream your favorites or discover new music. You can also access your SoundCloud playlists through the app, but unfortunately, you can't seem to edit them.
Advertisement
Auryo's main feature is the Discover section to find new artists to listen to. Presented with an endless range of choices, play anything you want and start listening. You might find excellent indie musicians 7 Websites to Discover New Music by Indie Artists If mainstream music doesn't appeal, you should check out indie artists online. Here are seven websites to help you discover new music by indie artists from around the world. Read More through this.
Download: Auryo for Windows, Mac, or Linux (Free)
Sometimes, an app makes you think, "Hey, this should be a default feature." That's what Quick Preview for SoundCloud feels like. It's a wonder that SoundCloud doesn't have this built in.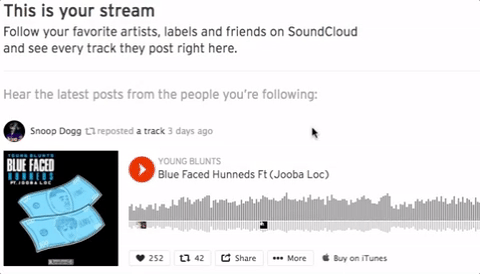 Install the extension and go to SoundCloud. Hover over the play button of any track to preview it. It even works with playlists, surprisingly.
Quick Preview is one of the best music extensions for Chrome 20 Awesome Music Extensions for Chrome For those of us who love using Chrome for our daily browsing, having the perfect music extensions on hand is pretty much essential to enjoying the day. Music is life. Read More , so don't think twice about downloading this one.
Download: Quick Preview for SoundCloud for Chrome (Free)
3. Noise Supply (Web): Your Personal SoundCloud Radio
Figuring out what to play takes up more time than it's worth. Instead, let Noise Supply do the heavy lifting for you. It's the easiest way to create an endless playlist of streaming songs from SoundCloud.
To start, name an artist, a SoundCloud track, or a genre you like. Click the "Make Some Noise" button and you're done. It's literally that simple. Noise Supply will play song after song based on your first input, without needing anything more from you.
In case the app plays something new and you want to identify that song The 3 Best Music Recognition Apps to Find Songs by Their Tune Shazam is the best-known music recognition app, but how does the competition compare? We put three song finder apps to the test. Read More , enable "Show Play History" from the settings. There's also a night mode to make it easier on your eyes (and screen).
4. Sound Wall (Web): Discover New Songs
I love finding covers of famous songs on SoundCloud. And nothing makes it easier than Sound Wall, a simple project with a ton of usefulness.
Let's say you want to listen to covers of Shake It Off, just to spite Taylor Swift's wrong ideas Why Taylor Swift Is Wrong About Spotify In the past week Taylor Swift has pulled her music from Spotify, inspired countless song-pun laden headlines and reignited the debate about streaming music services. Read More . Go to Sound Wall and search for the title. You'll find six different results. Hover the mouse over any result to start playing it. Move the mouse away to pause. It's a really cool interface.
If you like any song, you can also lock it to continue playing without your mouse on it. Sound Wall has its own helpful download button too, to grab the song for offline listening.
5. Soundtake (Web): The Simplest SoundCloud Downloader [No Longer Available]
Want to grab a song or podcast off SoundCloud to listen to it offline? You could use the SoundCloud Go app for mobiles Is SoundCloud Go Worth It? Everything You Need to Know SoundCloud Go is a new premium music streaming service designed to compete with the likes of Spotify and Apple Music, but is it worth paying for? Read More . But that's not on desktop, and it's paid too. The easier option is to download it from Soundtake.
Copy-paste the track, playlist, group, likes, or user's URL into Soundtake's box. That's right, you can download an entire playlist or a user's whole catalog. You'll still have to click the Download button manually on each track. But hey, at least you have the option now.
This is especially useful to download the old episodes of a new podcast you discover, or an indie artist to listen to later. Soundtake even supports the best quality available, including FLAC or 320Kbps MP3 files.
What Makes SoundCloud Awesome?
In a way, SoundCloud's claim to fame has been that it is the YouTube for audio streaming. Anyone can upload audio tracks, which anyone can download. It's all free to boot, which means you get more indie artists than anywhere else.
Is that what makes SoundCloud awesome? Or is it the community of music lovers, discovering and sharing new tunes? Why is SoundCloud special to you?
Related topics: Cool Web Apps, SoundCloud, Streaming Music.
Affiliate Disclosure: By buying the products we recommend, you help keep the site alive. Read more.