How to Pick Up a Side Gig in 5 Easy Steps
No matter how big your salary is, you'll always find yourself thinking you don't earn enough money. Whether you want to speed up paying off student loans How to Save Thousands: Consolidate Your Student Loans The average 2015 college graduate will have to pay back $35,000 in loans. Here's how loan consolidation can help. Read More , saving up for a vacation Save Money on Your Next Vacation with These Android Apps Summer is right around the corner, so you these Android apps to get a cheap vacation for you and your family. Read More , or getting out of debt The 6 Things You Need to Get Out of Debt Quickly Getting out of debt takes a lot of work, but if you know the right tools and strategies, you can get a big head start on becoming debt-free. Read More , your best strategy is to start making extra money on the side. And that's where a side gig comes in.
Advertisement
Where to Begin?
While finding a side gig that caters to your needs is rewarding, the process can be quite overwhelming. There are so many options out there — where do you even start looking?
We outlined the whole process of getting a side gig from coming up with the idea to receiving your first bit of income. Read on to find out how to start earning more without having to quit your current job or look for a new one Want To Switch Jobs? 5 Tools That Help You Reinvent A New Career Finding the right career is easier with online tools and career counselors. But to truly understand your dream job, you need to dive deeper and decide for yourself if that job fits you. Read More in five easy steps.
1. Know Where Your Heart Lies
Currently considering cleaning people's houses in my undies as a side gig. I love to clean and have a nice ass so legggo??

— Philip Hernandez (@XOJamesMoreno) February 19, 2017
Choosing or finding the right side gig opportunity can prove difficult if you don't know where to begin. Identify the skills The 10 Most Important Work Skills In 2020 Will you be graduating college or university in six years? If you're hoping to land a job, it'll take more than just a degree. Read More and resources you already have to narrow down the search. The questions to ask yourself here are "what am I good at?" and "what do I enjoy doing?"
Advertisement
Sometimes even the skills you use at your full-time job are enough. Say your sphere is finance. Are you good with Excel spreadsheets and research? There are people out there who won't know much about Excel and will pay for your professional help.
Are you good at writing? Maybe you enjoy taking quality pictures? How about graphic and web design? If you don't have any specific skills that seem marketable, fear not — you can make money with simple skills like cleaning, cooking, and driving a car.
2. Do Some Research
Now that you've identified the skills you want to sell, it's time to do some research. Find out where people with your skills are needed, as well as who's ready to pay for your work.
Advertisement
How many people are selling your skills? What are they charging? Where do they get jobs? Find out where they hang out online (see the next section for some ideas or check out Reddit for some ideas). If anyone you know is has a side gig that you're interested in, ask them how they got started and where they get jobs.
3. Find the Right Platform
Look both online and offline to find the right place to sell your skills. There are dozens of websites that connect freelancers with clients, like Fiverr, Upwork, Mediabistro, and even Craigslist. Register on one or two of these, build up your profiles, and start bidding on or applying for freelance contracts.
If you're looking to sell arts and crafts, Etsy might be the right place for you. It's a community-like website Etsy - An Alternative To eBay For Handmade Products Read More that helps you sell handmade products. You can even set up your own business. Amazon Handmade is less established, but focuses on the same types of products.
Advertisement
If you have free time and a car available, consider joining Uber, the transportation company that revolutionized taxi service and made becoming a taxi-driver hassle-free. Lyft and Instacart will also reward you for driving people (or groceries) around.
And there are all sorts of other places. Italki, for example, will pay you to teach languages online. ToursByLocals will hire you to give a tour of your city. PostMates lets you deliver food, packages, or just about anything else for pay. If you can hire yourself out to do it, there's almost certainly a website that will let you.
4. Set Your Money-Making Goals
You probably already have in mind a desirable amount of money that you'd be satisfied with. It's important to decide how much you need or want to make and set your goals ahead of time before you start doing an actual job.
Advertisement
This one has a special importance to those who choose to work freelance. Platforms like Upwork 5 Websites Where Freelance Writers & Coders Can Find Work Freelancing has its benefits, but the difficulty comes in finding people and companies to whom you can market yourself. Fortunately, there are now more places to find freelancing gigs than ever before. Read More make the client search easier, but that comes at a price of high competition. Some might choose to stand out by lowering their bid to get the job. While that might work in some cases, you might end up working for peanuts.
Always know the price of your work and how much you need to make in order to keep it beneficial for everyone.
5. Keep Going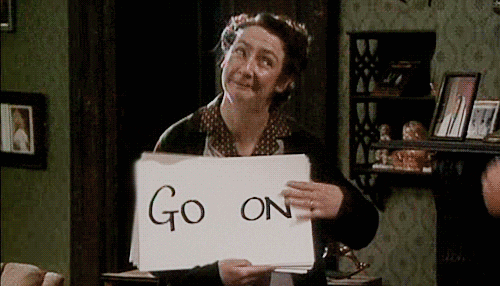 Bear in mind that it might take a while till you start making a decent amount of money with your side gig. Finding the right clients, filling in numerous applications, and setting up your own business can be challenging and frustrating.
Nevertheless, a little extra income 20 Micro Jobs to Help You Make Money in Your Free Time Online opportunities to earn additional income are everywhere. It can be difficult to sniff out the legit companies from the scams. Below are 20 legit opportunities to easily make some extra income in your free... Read More can make a big difference and bring extra security into your life. Don't get discouraged and keep up the work — after all, you must climb the tree before you get to eat the fruit.
Would you consider getting a side gig? What sort of side job would you like? Do you already have one? Share your thoughts and experiences with us in the comments section below!
Related topics: Freelance, Job Searching, Make Money Online.
Affiliate Disclosure: By buying the products we recommend, you help keep the site alive. Read more.