The Easy Guide to Google Chrome
Google's Chrome is now the biggest browser in the world, with half the world using it as their default browser. But that doesn't mean everyone is using it right. There is a lot more to Chrome than meets the eye.
Advertisement
This guide looks at the fundamentals of Google Chrome and the advantages you get when you use its features well. It is meant for the beginner who wants to explore what the world's most popular web browser is all about.
So, let's answer this first…
What Is Google Chrome?
Let's get down to brass tacks. Google Chrome is a browser made by Google and offered as a free download for desktop and mobile devices. In this article, we will be talking about the desktop version, but it's important to know about mobile to sync devices and access data Stay in Sync: Access All Your Browser Data From Any Device How can you make the process of switching devices more efficient, so that you can easily pick up where you left off? Read More .
Chrome is also the name of Google's desktop operating system. It's what you'll find on Chromebooks, or you can even install it yourself. But Chrome OS is completely different from the Chrome browser.
Advertisement
Contrary to popular opinion, Google Chrome is not open source. It's simply freeware Open Source vs. Free Software: What's the Difference and Why Does It Matter? Many assume "open source" and "free software" mean the same thing but that's not true. It's in your best interest to know what the differences are. Read More . That said, Google released the source code it made Chrome from as a different open-source project called Chromium.
What's the Difference Between Chrome and Chromium?
Chrome is Google's end-product browser, complete with Google tools and services. Chromium is the open-source code that Chrome is based on. Chromium is also the name of the browser made with that open-source code.
In a nutshell, Google took Chromium and added more features to make Chrome. For example, Google loaded proprietary codecs like MP3 and H.264, added Flash, and has Google features like Translate and PDF viewer. With Chromium, you'll need to manually add all those plug-ins.
Advertisement
But all things considered, the difference is minor. You can easily use Chromium instead of Chrome without ever realizing the difference.
What are the Advantages of Chrome?
So what has got so many people using Chrome instead of other browsers? There are a few advantages that set Chrome apart from the rest.
Speed and Performance: In our mega comparison of popular browsers, Chrome was objectively the fastest. True to form, Chrome is also primed for new web technologies like HTML5.
Fast Startup: When you click the browser icon, the Chrome browser starts almost instantly. With other browsers, you'll likely have to wait a few seconds.
Security: Chrome treats each tab as a separate process so that a crash in one tab doesn't bring down the whole browser. Plus, the whole browser is sandboxed, so malware can't affect your computer unless you actively click on it.
Extensions: Since it's the biggest browser, developers like to make extensions for Chrome. And that has led to a massive extension library

The Best Chrome Extensions

A list of only the best extensions for Google Chrome, including suggestions from our readers.

Read More , which can add almost any feature you want.
The Google Advantage
Since it's made by Google, Chrome offers a few Google features that make it amazing. Having access to these Google services as part of the built-in browser experience is a convenience that's hard to explain.
The Problems with Chrome
Not everything is hunky-dory though. Even though Chrome has so much to offer, it is also guilty of some missteps.
Advertisement
Still, don't let those problems bring you down. There are ways to bypass them. Chrome is a customizable browser, and its arsenal of extensions will let you make Chrome behave the way you want.
How to Install Google Chrome
The first step, of course, is to install the latest version of Google Chrome on your Windows, Mac, or Linux computer. Google updates Chrome often, so to get the latest…
Advertisement
Go to www.google.com/chrome
Click the Download Chrome button
In the pop-up dialog that follows, click Accept and Install
This will start a file download. Once the file is downloaded, run it and follow the instructions to install it. For any queries, refer to the installer's Chrome help page.
Get the Full Chrome Installer for Windows
On Windows, the above method will download a small, partial installation file. Run it to begin installation, during which it downloads the full version of Chrome.
However, you can also download the full version from the start. This full, offline installer is easier if you don't want to download Chrome every time, or on every computer you want to install it on. To get this, go to Chrome's offline installer mini-site and follow the same method as above. This time, you'll get the full installer, not the partial one.
How to Setup Google Chrome
Before you launch Google Chrome, make sure you already have a Google account. If not, create one at gmail.com.
When you run Chrome, this is the first screen you will see. Sign in with your Google account.
As Chrome says, your bookmarks, history, passwords, and settings will be synced to your Google account. So, Chrome will have the same data on your personal computer, office computer, and your phone or tablet.
Start Using the Browser
You are now ready to start using Chrome. Let's figure out the different elements of the web browser.
Tabs
Tabs are the most important part of a browser. Each tab displays a link. Chrome's tabs appear at the top of the browser, like so:
You can create a new tab by clicking the small icon next to the last tab. You can also go to Menu > New Tab or use the keyboard shortcut Ctrl+T or Command+T.
Omnibox
Under the tabs is a single bar, for both your searches as well as to go to sites. It's called the Omnibox 11 Quick Tricks To Become A Chrome Omnibox Power User Do you want to become an Omnibox power user and save plenty of time and keystrokes? All you need are a few good extensions and a little knowledge of how to tweak the search settings.... Read More . By default, it uses Google Search, but you can change this in settings. You can also type in a website address and press Enter to visit the site directly.
Menu
Next to the Omnibox, you'll see the Menu icon. It looks like three vertical dots. Click it to see the full Chrome Menu.
New Window
You can also have two separate Chrome windows running simultaneously. Each window will have their own set of tabs in it.
To start a new window, go to Menu > New Window. You can also use the keyboard shortcut Ctrl+N or Command+N.
Startup or New Tab Page
When you start Chrome or open a new tab, the default page looks like this:
You get the Google logo, a Google search bar, and eight thumbnails of your most visited websites. In settings, you can change this to show the last tabs you had open.
Incognito Mode
Incognito Mode is an anonymous version of Chrome. It launches as a separate window. Incognito Mode does not have your Google account and doesn't save your passwords, history, or bookmarks.
You can launch an Incognito Window by going to Menu > New Incognito Window. You can also use the keyboard shortcut Ctrl+Shift+N or Command+Shift+N.
The idea is to have a browser that doesn't track you online. So an incognito window is an efficient way to protect your privacy and security. But keep in mind, it's not foolproof 4 Things to Keep in Mind When You Go Incognito Online Incognito Mode (or private browsing in general) may not be as safe as you think it is. Here are some important things to keep in mind before the next time you do. Read More .
Bookmarks and Bookmarks Bar
You can save any link for later by bookmarking it. To bookmark a page you are on, click the heart icon in the Omnibox. You can also bookmark by pressing Ctrl+D or Command+D.
It's a good idea to move your most commonly used bookmarks to the bookmarks bar. This bar can be always visible under the Omnibox or show up only on the New Tab page. To toggle the view, go to Menu > Bookmarks > Show/Hide Bookmarks Bar or use the keyboard shortcut Ctrl+Shift+B or Command+Shift+B.
To organize your bookmarks, go to Menu > Bookmarks > Bookmark Manager, or use the keyboard shortcut Ctrl+Alt+B or Command+Alt+B. You can create folders and catalog your bookmarks around as needed. For advanced organization, use some of our best bookmark management tricks Creative Ways You Need to Try to Organize Your Bookmarks But, what really is the best way to save and organize bookmarks? Here are a few creative ways to do so, depending on your style and browser use. Read More .
History
History is a record of all the pages you have visited. This way, you can quickly find a link whose tab you closed.
To access history, go to Menu > History > History, or access one of your recently closed tabs from the rollover. There's also the keyboard shortcut Ctrl+Y or Command+Y.
In the history tab, you'll see your device's entire history, sorted by date. There's a handy search bar too. Type in "Makeuseof" and you'll see all the MakeUseOf pages you have visited.
And in case you saw the link on your phone, click Tabs From Other Devices. You'll find it in there.
Downloads
The Downloads pane lists all the files you have downloaded from the internet. You can bring it up through Menu > Downloads or the keyboard shortcut Ctrl+J or Command+Shift+J.
By default, Chrome uses the computer's designated default Downloads folder. You can set a custom folder in Chrome's settings.
In the Omnibox, go to "chrome://settings/downloads" (without the quotes and without an HTTP prefix). Click Change in Location to set the folder you want. You can also ask Chrome to ask where to save each file before downloading.
People and Guest Mode
One Chrome installation can be used with different accounts, in case you share a computer or have multiple Google accounts. In the top-right corner, above the Menu icon, you'll see your name. Click it to reveal the People menu.
To set up another account, go to People > Manage People > Add Person. Choose an avatar (or leave it blank to fetch your Google profile picture) and sign in with your Google account.
If you are handing over your computer to a friend, switch to People > Guest. Guest mode is a blank profile for temporary usage Guest Mode vs. Incognito Mode in Google Chrome: What's the Difference? What are the differences between incognito and guest modes in Google Chrome? Learn more about what these modes are for. Read More . It doesn't save history, can't use extensions, and can't access any information from the main user.
Optimize the Settings
You can access Chrome's Settings through Menu > Settings. This is where you can tweak almost any aspect of Chrome that you want. Here are a few examples of what you can do.
There are plenty of other options in Chrome's Settings. There are some main advanced settings The Advanced Chrome Settings You Should Be Using How much do you really know about your privacy, autofill, and history settings in Chrome? You may not use these settings often, but they have options that can help improve your browsing experience. Read More you should be using, but feel free to browse around.
And don't worry about breaking anything. Because in case you do, Settings > Reset will take Chrome back to its default state.
Psst, Check Out Hidden Settings
Chrome has a host of hidden advanced settings that bring a lot to the table. You can bring up this hidden menu by going to "chrome://flags" (without the quotes).
Caution: We don't advise tinkering with Chrome Flags unless you know what you're doing. This could break things in Chrome.
If you still want to tinker with it, please refer to expert articles, like our flag changes to speed up Chrome 10 Hidden Chrome Settings You Should Change There's more to Chrome settings than the basic tweaks you made when you first set up your browser. Let's see what that involves. Read More .
The Universe of Chrome Extensions
Extensions set Chrome apart from all other browsers today. It has the largest extension library, that alone is reason enough to use Chrome. There are also some exclusive Google-made extensions The Best Chrome Extensions Made by Google Who better to provide Chrome extensions than Google? Play it safe with a trusted source. Here are the best homemade Chrome browser addons. Read More that you should check out.
How to Install a Chrome Extension
Finding and installing an extension in Google Chrome is simple. Chrome only accepts extensions from the Chrome Web Store and doesn't allow third-party extensions.
Go to the Chrome Web Store.
Browse or search for an extension, and click on it.
Click the blue Add To Chrome button.
Click Add Extension when the popup asks you to.
You can still manually install an extension How To Install Chrome Extensions Manually Google recently decided to disable the installation of Chrome extensions from third-party websites, but some users still want to install these extensions. Here's how to do it. Read More that's not in the Chrome Web Store. But it's a convoluted procedure, and you can't guarantee if it's safe. It's best to avoid those if you aren't sure.
How to Manage Extensions
Extension icons show up between the Omnibox and the menu icon. Left-click any icon to activate the extension. Click and hold, then drag the icon to change its position in the bar. Right-click any icon to see the extension's options.
The right-click menu also lets you hide the icon in the chrome menu, or remove the extension completely. You can also access the extensions pane by clicking Manage Extensions. The easier way, though, is to go to "chrome://extensions" (without the quotes).
In the Extensions tab, you can see all the add-ons you have installed. You can enable or disable an extension, remote it from Chrome, see what permissions it requires, and look up other details. Some extensions offer advanced options, which you can access here.
Best Chrome Features to Use and Master
Now that you know everything in Chrome, it's time to use it like a pro. There are a few built-in features you need to master.
Pin Tab
You can "pin" tabs that you want to keep open. Pinned tabs are moved to the start of the tabs bar, and only show the site's favicon or logo. A pinned tab also can't be closed, you need to unpin it before that; which means you won't accidentally shut it.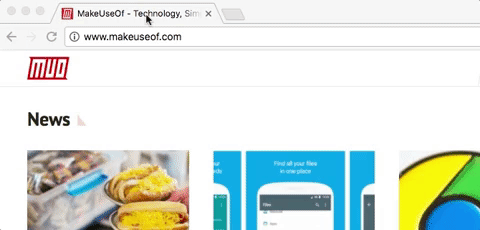 To pin a tab, right-click on a regular tab and choose Pin Tab. Alternately, right-click the tab and press P.
To unpin a tab, right-click on a pinned tab and choose Unpin Tab. Alternately, right-click the tab and press U.
Reopen Closed Tab
Accidentally closed a tab? Don't worry, you can reopen it. Chrome has a built-in mechanism to undo your mistakes.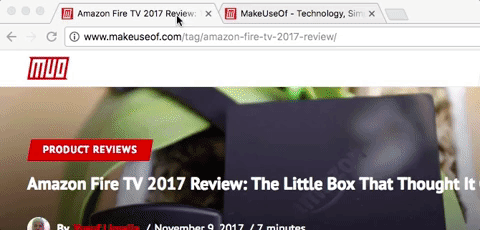 To reopen a closed tab, right-click on the tab bar and choose Reopen Closed Tab. You can also use the keyboard shortcut Ctrl+Shift+T or Command+Shift+T.
Chrome remembers your browsing history in a session. So keep pressing the shortcut and it will keep opening the tabs you closed, in chronological order.
Mute Tab
Chrome shows which tab is playing audio by adding a speaker icon to that tab. And you can quickly mute or unmute that tab by clicking the icon.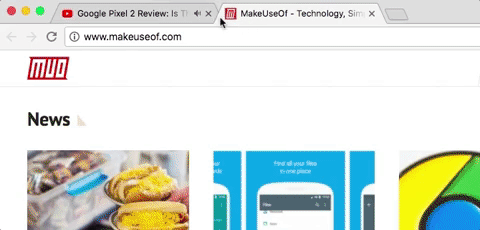 Alternately, you can also right-click the tab and choose Mute Tab or Unmute Tab.
Keep in mind, this only mutes the tab, it doesn't pause or stop the audio. It's volume control, not playback control.
Task Manager
Each tab and extension of Chrome runs as a separate process. And Chrome includes a built-in task manager to know which process is taking up too many resources.
The Chrome Task Manager shows all the running processes, and how much memory or CPU is being used. It also shows how much network bandwidth any process is taking.
To start Task Manager, go to Menu > More Tools > Task Manager. On Windows, Linux, and Chrome OS, you can also use the shortcut Shift+Esc. There is no keyboard shortcut for Mac.
Chrome Has a Built-in Chromecast
Google Chrome is the only browser to support Chromecast Google Chromecast Review and Giveaway We're giving away a Google Chromecast, so read through our review, then join the competition to win! Read More out of the box. In fact, Chromecast extensions on other browsers haven't worked well for us whenever we tried.
Chrome lets you cast a video you are watching on a Chromecast-supported site, like YouTube or Netflix. You can also cast the entire tab to your TV, or cast your entire computer screen.
To activate Chromecast, click the Cast icon next to the Omnibox, or go to Menu > Cast. The Cast pop-up will ask you to select the device to cast to.
Click the dropdown arrow to choose whether to cast a video, a tab, or your whole desktop.
Master Keyboard Shortcuts for Speed
Like any good app, Chrome has several shortcuts for keyboard warriors. It would be too long an article to list them all here, so here are some of the more important ones 15 Essential Chrome Shortcuts That Everyone Should Be Using The key to having a good time with Google Chrome is learning all of the essential keyboard shortcuts that will make your life easier. Read More . The Mac versions of these and other shortcuts are found on Chrome's full list of keyboard shortcuts.
Home: Scroll to the top of the page.
End: Scroll to the bottom of the page.
F5: Refresh the current tab.
Alt + F5: Refresh all open tabs.
Alt + Left: Go to the previous page.
Alt + Right: Go to next page.
Ctrl + D: Bookmark the current page.
Ctrl + F: Search for text on the current page.
Ctrl + J: Open the Downloads manager.
Ctrl + T: Open a new tab.
Ctrl + W: Close the current tab.
Ctrl + Shift + T: Reopen the last closed tab.
Ctrl + Shift + N: Open a new Incognito Window.
Ctrl + Shift + Delete: Clear history, cache, cookies, downloads, passwords, and other data.
Shift + Escape: Open the built-in Task Manager.
What Did We Miss?
Is there any part of Google Chrome that still confuses you? Are you unsure about some feature? Ask a question in the comments section below, and MakeUseOf's community of readers will do its best to answer it.
Related topics: Browser Extensions, Browsing Tips, Google Chrome, Longform Guide.
Affiliate Disclosure: By buying the products we recommend, you help keep the site alive. Read more.