15 Awful Reddit Posts You Won't Believe Were Popular
For some reason, people love gaining karma on Reddit. Even though the points amount to little more than a number next to your username, users are always quick to cash in on easy ways to earn those sweet internet points.
Advertisement
While many of the most highly-rated Reddit posts of all time The Top 10 Highest-Rated Reddit Posts of All Time Here are the highest-rated Reddit posts of all time that clearly resonated with Reddit users! Read More deserve their spots, plenty of crap rises to popularity for no good reason. Join us in scratching our heads at some of the most highly-upvoted posts that should have gone straight to the trash.
Note: To assess each post's popularity, we've included the number of points each one had at the time of writing, along with the percentage of users who upvoted it. Reddit obfuscates these scores somewhat 19+ Things Almost No-One Knows About Reddit In the Reddit community all are invited, but few understand the mysteries which lie within the insanely popular forum. Never tread blindly again with this list of things most Reddit users don't know! Read More to prevent spam, so they aren't a perfect representation of popularity.
1. Picture of a Woman (92,000 points, 81% upvoted)
New Reddit users are automatically subscribed to a few default subreddits. Unsurprisingly, the massive amount of users on these pages leads to lowest-common-denominator cheap karma grabs.
Here's a perfect example, from the /r/funny community.
Tried to take a selfie at JFK. Caught this gem before I could figure out how to reverse the cam. from funny
Advertisement
Haha, isn't this so hilarious? It's a picture of a random custodian at an airport, referred to by the poster as a "gem." Unless you just got your first smartphone, who would have to "figure out how" to swap the camera to take a selfie Should You Take That Selfie? Some Things to Consider Taking selfies is a lot of fun -- but it can also get you in trouble. Here are some situations where you shouldn't snap that selfie. Read More ? One particularly patronizing comment claimed that this lady is "making moments like this so strangers can get happy because of her happiness."
Whatever you say.
This post (along with many on /r/pics) goes to show that many pictures are popular not because of the photos themselves but because of the stories in the title. Let's try this out on our own.
Here's a random picture of a man with a cat:
Advertisement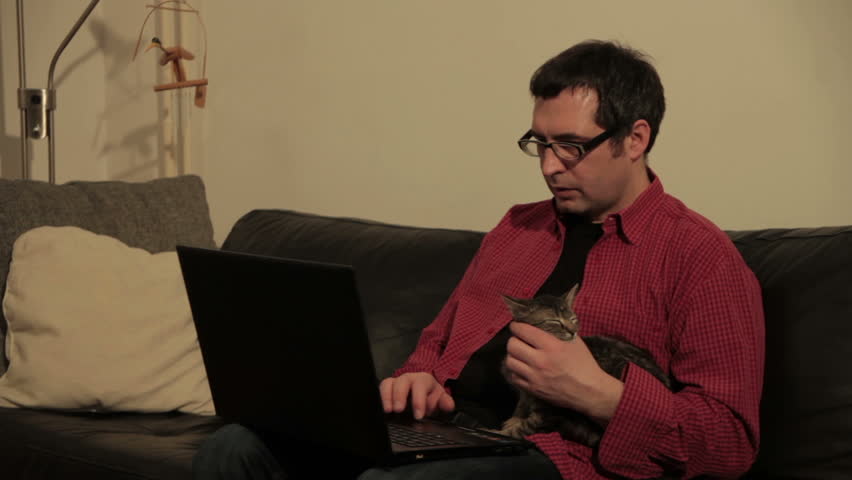 Now, just posting this to /r/pics with the caption "Reddit, I love my cat!" won't draw much attention and karma. We need to dress this up somehow…
"Reddit, I just rescued this cat from the wild!"
"Reddit, I just lost my job and this is my cat comforting me while I search for a new one.
Now if we combine these…
"Reddit, last month I lost my job and am almost out of money. But I saw this cat that needed rescuing and spent the last of my savings getting it the necessary vaccinations. Now he loves me and is here sitting with me while I search for a new job. Though money is tight, I know we're both gonna be OK."
This is a story that will rocket to the front page How to Consistently Hit the Top Page of Reddit I've decided to dig deep into what Charles Chu had discovered, looking for insight into what it takes to craft a popular Reddit post that readers can't help but engage with. Read More . See how easy it is?
Advertisement
2. Cashing In on Nostalgia (36,000 points, 69% upvoted)
Reddit allows users to submit links to images/pages or add a text post. You don't gain karma for text posts, so karma-grubbers flock to simple images. One of the most worn-out types of posts on the /r/gaming subreddit is posting a picture from Google Images 21 Quick Browser Tools to Search for Images Online What if you want to search for an image similar to one you see? Or, what if you want to quickly locate an image based on a word or phrase on a page? Read More of a video game box or title screen and asking "Does anyone else remember this gem?" Others reading it give in to nostalgia, upvote, and leave generic "Yes I loved it!" comments.
This happens almost daily in /r/gaming, but here's a particularly popular example:
A spin on this is a user "finding" a "hidden gem 7 Mobile Gaming Hidden Gems You Must Try Everyone knows Candy Crush and Monument Valley, but what about the best mobile games hiding beneath the service? Here are seven great hidden gems for your iPhone or Android guaranteed to be a blast. Read More " in their attic. They exclaim that they're not going to get much work done today because they need to relive their memories. Bonus points for low-quality images or calling critically-acclaimed games "hidden gems."
Advertisement
3. Dank Political Insight (75,000 points, 69% upvoted)
How can you make a picture of a keyboard something anyone would want to look at? Add a stupid comment about the "alt" political movements and you've got guaranteed upvotes!
There will always be a space between the Alt Right and Alt Left. from pics
Neither the picture nor the title of this post is even remotely interesting. Put them together… and it still sucks.
4. Can't Google, Must Post (16,000 upvotes, 90% upvoted)
Granted, this one isn't a cheap attempt at karma as it's a self-post. But it's still hilarious to see the reaction of /r/smashbros when someone asked how to perform a Final Smash move in Super Smash Bros. for Nintendo 3DS. Not only is a question like this one Google search away Sick of People Asking You to Google for Them? Use This Site Google can answer anybody's questions in an instant, but some people still ask others to search the web for them. Next time that happens, here's the site you should use. Read More , it's explained in the game's opening tutorial video.
Hi, what button do i press for the final smash in the 3DS? thank you from smashbros
The comments on this post are even funnier. One user posted a "video demonstration" of pressing the B button on a Nintendo 3DS that got over 45,000 views.
In the end, everyone who replied was extremely gracious The Kindest Communities on Reddit There are a lot of really great people on Reddit – here's where you can find them. Read More instead of being a jerk over such a simple question. But it's still insane how this became the sub's second most popular post of all time.
5. Lousy Restaurant Promotion (54,000 points, 54% upvoted)
Even at first glance, this picture is pretty stupid. But there's even more lousiness at work here than you'd notice right away.
I employed a redditor, she's always browsing instead of working. I hope she sees it because I'm sick of telling her to get back to work! from pics
First off, the employee is browsing 9GAG, not Reddit. And does this guy seriously think that posting this will deter his employee from browsing Reddit — let alone doing it right in front of him, which was surely not staged in any way?
If you examine the comments, you'll find that there's more at work here. The fellow who posted this was recently banned from humor site 9GAG for attempting to virally market his restaurant. He tried to pull the same stunt on image hosting site Imgur, where most Reddit images are hosted:
Most of his post history is just advertising his restaurant, which is against Reddit's terms. Nonetheless, this received over 50,000 upvotes, playing right into his plan. Yikes.
6. Have Game Box, Will Flip (23,000 points, 68% upvoted)
So you have this new game, Doom, and want to quickly cash in on its popularity with the folks at /r/gaming. But you can't call it a gem and ask if anyone else remembers it, since it just came out. What to do…
Oh, I know! Turn the box upside down and head to the front page of /r/gaming!
Just got that rad new 'WOOD' game everyone's talking about… from gaming
If you expected this subreddit would be somewhere you can have an intellectual discussion about video games 13 Big Gaming Forums to Talk About Video Games Here are the biggest gaming forums where you can talk about video games to your heart's content. Read More , you'd be wrong.
7. We Don't Care About Your Story (60,000 points, 80% upvoted)
Advice Animal memes that rely on a single image usually start out as generally relatable jokes that anyone looking at the post can enjoy. But they eventually devolve into personal tirades, like this Confession Bear post:
Complete with a misleading title ("cheating" implies something else) comes a story that nobody cares about. Why do you have to confess to using dishonest tactics when playing a friend in chess online? And why did 60,000 people express an interest in this? We may never know.
8. All You Need Is Yoda (3,000 points, 65% upvotes)
Rule Number 0 at /r/funny is that all posts must make an attempt at humor The 20 Funniest Websites for the Best Humor on the Web If you're searching for the best humor on the web, here are the funniest websites you should visit. Read More . It's a mystery, then, why this post was allowed to stay up.
Now, /r/funny is generally full of crap as we've seen above. But this is not only unfunny, it's incorrect. Yoda wouldn't say "Love is all you need." He'd say it more like "All you need, love is." That would completely ruin the "joke" and deprive the poster of karma, though. People probably saw just The Beatles and upvoted.
9. Only 90s Kids Will Understand (2,000 points, 91% upvoted)
Remember that turquoise and purple swirl design that was on cups all over the place in the 1990s Relive the Web of the 1990s by Visiting These 9 Old Websites These nine websites were cutting edge back in the day. They came before the advent of super-slick graphics and Web 2.0, but today serve as nostalgic reminders of how far web development has come. Read More ? The poster of this image hopes you do, because they want to cash in on that nostalgia for some karma.
There's a good chance that nearly everyone has seen this design at an ice cream shop, on cups at a party, or similar. Interestingly, after this and many reposts made the rounds, Reddit launched a campaign in 2015 to find the creator of this design. They actually did track her down and asked her a few questions about the design.
But that's still no excuse for this cheap karma-grab.
10. Mr. Literal Is Still Wrong (26,000 points, 77% upvoted)
There's so much wrong with this post.
The first game to have a female as the leading role from gaming
First, the poster apparently couldn't bother to find a higher-quality picture on Google of a chess queen piece. Second, the picture is not at all interesting nor does it have anything to do with video games. Third, the title is deliberately misleading. Fourth, the queen piece Where Are All Of The Video Games Featuring Female Protagonists? Want to know where you can find strong female leads in video games? Start with these remarkable examples. Read More is not female, it's an inanimate object. And fifth, most egregious of all, the queen isn't the lead role in chess! The goal of chess is to protect your king, not your queen.
Over 26,000 people who don't know the basics of chess thought this was worth a thumbs-up, though.
11. The Aging Process in Action (48,000 points, 86% upvoted)
Thanks to Reddit, we're aware of new and exciting revelations. One of these is the fact that dogs age. Who knew?
Before/after from pics
Just in case you've never seen a dog before, here's a comparison shot so you can see how wildly the dog has changed. And certainly, the girl holding the dog has nothing to do with the success of this post, right?
12. I Googled the President (231,000 points, 91% upvoted)
As Reddit is a pretty left-leaning community, it makes sense that they'd be sad to see Barack Obama's term as President come to an end. One Redditor decided to put this to the test by Googling a generic picture of Obama and submitting it with a played-out meme title. For his five seconds of effort, this user gained over 230,000 karma.
Thanks, Obama. from pics
Not only that, but other readers gifted him 22 months of the premium Reddit Gold service. You can gift Gold to a post or comment Save Your Favorite Comments & Give Gold To The Best Submissions On Reddit Reddit has been slowly but surely making tiny improvements to the social chatter it collates. This week it brings two changes to the community. Read More that you really like, typically to say "thanks" for someone for helping you out or sharing a great story. At $4 a pop, that means people spent a combined $88 on this zero-effort post.
13. Guy Beats Video Game (83,000 upvotes, 76% upvoted)
"Hey dad, I just beat Dark Souls 3. The internet loves Dark Souls, and they'll eat it up if they think you beat it instead. To make it even crazier, I'll say that you've never played a video game before. Come pose for a picture!"
My father, a 53 yo who has never played videogames before, just won Dark Souls 3 after 132 hours of pure determination. It truly was an epic bonding experience! from gaming
That's what we imagine went down in the taking of this picture. Take away the story in the title, and you have three poor-quality images that aren't particularly interesting. Who cares if some guy beat a game? There's no proof that it was the dad who "won" the game (which is a weird way to refer to completing it). It's clear that /r/gaming eats up Dark Souls content in any form.
14. Zero-Effort Cosplay (3,000 points, 77% upvoted)
Cosplay, the act of dressing up like a fictional character Kooky Cosplayers: The Best & Worst Cosplay Videos On YouTube [Weird & Wonderful Web] Geeks of all flavors are now at least aware of the art of cosplay. It has gone from a nerdy niche consigned to the fringes of society to being a mainstream cultural phenomenon. Read More , is pretty popular online. A member of the subreddit for the show Rick & Morty, which has become so popular 4 Reasons Why You Should Watch Rick and Morty Rick and Morty is the smartest, darkest, and most original comedy on television right now. This article explains why you, along with everybody else in the world, should watch this hilarious animated show. Read More to the point of nausea on Reddit, decided to put fifteen seconds of effort into this cosplay picture:
Throw on a tank top and put your hair in a ponytail, and you've got a 10/10 cosplay job right there. But this isn't even that accurate — the color of her tank top and hair don't match the character's. Plus, commenters have examined the low-quality image and determined that it's probably Photoshopped. If this level of cosplay gets over 3,000 votes, pretty much anyone can do it!
15. Today I Learned Cars Have Headlights (4,700 points, 87% upvoted)
/r/LifeProTips is a subreddit where people share tips you can put into practice to make your life easier or better. Like the "Lifehack" craze, some of the tips people share are either ridiculously stupid or painfully obvious.
This one fits into the latter category:
LPT: If it's getting dark, turn on your headlights. It doesn't matter if YOU can see everyone, it's about everyone else seeing you. from LifeProTips
"If it's getting dark outside, turn on your headlights." What an insightful piece of advice. It's a good thing we have the wise folks of Reddit to help us figure out how to drive cars. Seriously, how would anyone that passed the driving test and earned a driver's license not know to turn their headlights on at night? Apparently, 4,700 people weren't aware of this.
Have You Seen Any Blatant Karma-Grabs?
We've taken a tour of some of Reddit's worst posts that somehow became popular. For every awe-inspiring picture, useful link, or other unique piece of content, you'll find dozens of low-effort posts like these. Many times, people recognize these for what they are and they don't go anywhere. But other times, they somehow rise to Reddit's front pages.
Never underestimate the stupidity of people on the internet.
If you'd like to poke more fun at Reddit stupidity on your own, check out the /r/nosobstory subreddit. This page collects posts from /r/pics that are uninteresting without the accompanying story in their titles. Many of the posts in this article came from the /r/shitpost subreddit, a gathering place for users to mock posts that make you say "Who the heck upvoted this?"
What's the worst Reddit post you've seen that became popular? Have you ever submitted something to Reddit that became wildly popular? Feel free to expand the list or leave your thoughts below in the comments!
Image Credit: MauroMPF/Depositphotos
Affiliate Disclosure: By buying the products we recommend, you help keep the site alive. Read more.