7 Tips to Save Money on PC Repairs
You don't have to pay for expensive technical assistance to repair your PC. Most repairs are simple and can be completed in a matter of minutes.
Advertisement
Here are nine tips for making simple PC repairs and save money on computer shop repair prices.
But I Don't Know How to Repair a PC!
Before the home PC revolution of the 1990s, the techiest thing I had ever done was plug in a joystick. I didn't even own a PC until 2001, when I was 25.
Years later, while I'm no Linux guru or Microsoft Visual Studio wizard, I can handle computer hardware side of computers. I learned how to repair computer hardware, and I'm confident you can too.
Repairing your own PC means you can save money. PC repair shops charge for parts and labor. If you can get the parts cheaply, why not learn how to fit them yourself?
Don't think you can? Think again: the secret is in understanding how the various parts of the PC work together. While not everything is replaceable, the disk drive, power supply, RAM, processor, and motherboard can all be repaired or replaced.
Advertisement
Use these seven PC repair tips to save money, time waiting, and to expand your skillset.
1. Hard Disk Recovery & Replacement
The hard disk drive is arguably the most common PC part to require repair. Failure might be due to dying hardware or malware.
Either way, you will probably have a large amount of data that needs recovering. so that you can continue to use it. Our guide to recovering data from a dead hard disk drive How to Repair a Dead Hard Disk Drive to Recover Data If your hard disk drive has failed, this guide will help you with the hard disk drive's repair and data recovery. Read More (HDD) is the place to start.
When you have successfully recovered your data and backed it up to disc, you'll need a new hard disk drive. Amazon is a great place to find affordable HDDs.
Advertisement
Seagate FireCuda Gaming (Compute) 2TB Solid State Hybrid Drive Seagate FireCuda Gaming (Compute) 2TB Solid State Hybrid Drive Buy Now On Amazon $127.90
Installing a new drive—like most PC components—is straightforward and can usually be done with the minimum of fuss. Before replacing a drive, check these tips for installing a new HDD 5 Things to Consider When You Install a SATA Hard Drive Before you install a SATA hard drive, here are a few things to consider so you don't mess anything up. Read More .
2. Testing and Replacing Your Power Supply
A common problem in older computers is a defective power supply unit (PSU).
General maintenance and housekeeping can keep your PC free of clogged up dust. However, something will eventually cause your power supply unit to go rogue.
Advertisement
But what can you do, besides trekking to the nearest store or spending hours at home waiting for a delivery? Well, if you need to get up and running ASAP, you could always try a PSU from an old computer Can I Reuse My Old PC's Power Supply in a New Computer? Upgrading your PC but don't know if it's okay to use an old PSU? Here's what you need to know about using old power supply units. Read More . This might be one you have stored in the basement, loft, or garage.
Note that this should only be a short-term fix, however. Your best bet is a new PSU, making sure it is perfect for your PC and how you use it.
3. Replacing and Upgrading RAM Modules
Not all RAM is created equally. Cheaper RAM modules tend to be slower and less reliable. Meanwhile multiple sticks of RAM should be identical. Mixing and matching is a bad idea, as the slowest of the group determines the maximum performance.
Should you need to upgrade your RAM, you'll need to take care selecting the right module for your system. The combination of motherboard and processor (CPU) make this a balancing act—fortunately it's simple to find the right combination.
Advertisement
A good way to check the best RAM modules for your system is to use an online checking tool. RAM manufacturers Crucial offer two RAM checking tools on their website. One of these lets you browse for your PC model, while the other is downloadable and scans your system.
Within a few minutes you should know exactly which RAM modules to buy and how much to spend. With the RAM ordered replacing a module is as simple as inserting a disk.
4. Simple PC Display Issues Repaired
Display issues on your desktop PC could have many causes. Perhaps the monitor is suspect; there could be a display driver issue; the HDMI cable might be dud.
All of these can be easily checked and resolved. But what if the problem is hardware based and the display is working perfectly?
For PCs equipped with a discrete graphics card (that is, a GPU installed in an expansion slot), replacement is likely. However, it is worth checking first that the device is correctly powered and isn't overheating.
Overheating issues can often be resolved by improving airflow or adding a new fan to your PC case. Don't worry if the problems eventually result in you replacing the GPU. It's much like replacing or adding RAM modules, with the same antistatic precautions.
5. When Your Computer Needs a New CPU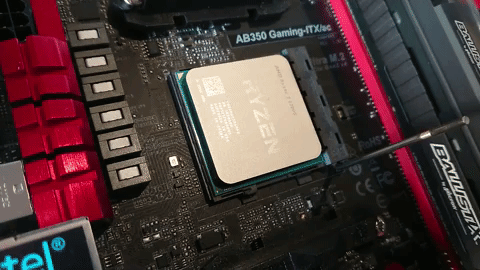 One of the most crushing disappointments when troubleshooting a PC is the discovery that your CPU needs replacing. Buying a new CPU can be difficult, so check our guide to dual core and quad core differences What Do "Dual Core" and "Quad Core" Mean? These days, most CPUs are dual-core, quad-core, or octo-core. But what does that even mean? Here's everything explained. Read More for help.
The anticipation of a new processor and the speed benefits your PC might gain is always good. The knowledge that you've saved upwards of $50 for the pleasure of fitting the CPU yourself is also pretty amazing.
6. Problems With Your Optical Drive? Try This
You've perhaps noticed that the components with the most moving parts are the ones that can cause the most problems. Hard disk drives can suffer mechanical failure, as can CD, DVD, and Blu-ray drives—together known as optical drives.
One way you can overcome a failing optical drive is to use an old laptop drive as a temporary replacement No DVD Drive on Your Tablet or Notebook? Use an Old Laptop Drive Instead! Windows computers increasingly ship without optical drives. Here's how to use an old laptop DVD drive as an external drive. Read More . If you find that you must replace the device, don't worry. It's an almost identical procedure to fitting a hard disk drive.
7. Repairing and Replacing Your Motherboard
Of all the problems you might experience when troubleshooting your PC, motherboard issues are perhaps the toughest to deal with.
It isn't just the fact that every component must be stripped out and disconnected before you safely remove the motherboard. One wrong move with a screwdriver or even when putting the motherboard in the case and you'll be buying a replacement.
There are, of course, some simple motherboard-related issues. BIOS problems are often related to jumpers or the motherboard battery and typically resolved by referring to the motherboard manual.
Easily Make Simple PC Repairs and Save Money
Perhaps we're making it harder for the tech support industry to earn a living, but we'd rather help develop a new generation of self-sufficient individuals who can repair their kit without the fear of 1s and 0s clouding their judgment.
Remember, no one is born with these skills. They must be learned, which means anyone can do it. If you feel you need assistance from a specialist, find a friend or relative who can be ready to help. Only pay for expensive tech support if there is no other option.
Looking for more affordable computing tips? Here's how to save money buying used games online How to Buy Used Games Online to Save Money Gaming is expensive and nobody can afford picking up all the latest releases at full price. Here are the best ways to pick up used games for a fraction of the price. Read More .
Related topics: Computer Maintenance, Save Money, Troubleshooting.
Affiliate Disclosure: By buying the products we recommend, you help keep the site alive. Read more.