Advertisement
Whether you already have an iPhone or thinking about getting one, here is a list of links to make your life with the iPhone better. Below you'll find Top iPhone startpages, couple of excellent iPhone Tools, over 10 HowTo's, huge collection of iPhone reviews (in-depth, video, comparative, stress-tests, etc.), and some fun stuff in the middle to give you a break. Enjoy!
iPhone StartPages
The idea behind the iPhone startpage is to bring all essential applications on one iPhone-friendly page. These apps can be anything, ranging from news sites to To-Do lists, Office apps, [NO LONGER WORKS] IM clients, VoIP services, Calculators, and more. All iPhone friendly and easy-to-navigate through.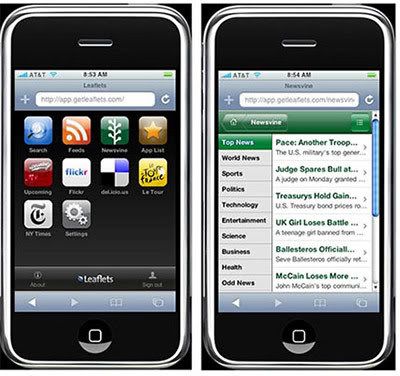 *Leaflets – features in-built search tools (Google, Yahoo, MSN, Wikpedia, … ), Feedreader, Flickr, del.icio.us, App list (directory of iPhone apps), and more.
*AppMarks – iPhone-friendly, well-categorized directory of iPhone applications. (Categories include: Cooking, Financial, Games, Email & Chat, etc.)
*More Similar StartPages: iPhoneAppr | MockDock | iPhoneAppsManager | Mojits | Gridgets
iPhone App Collections
In case the above mentioned startpages don't include the application you're looking for than check out one of the following sources. These are standard directory-like websites so don't try accessing them from your iPhone.
* iPhoneApplicationList | iPhoneWidgetList | iPhoneTopSites
Couple of cool iPhone Tools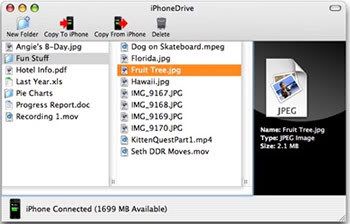 * iFuntastic – simple tool that lets you add/remove ringtones, change carrier logos, and rearrange the home screen icons. Currently only runs on Intel Mac's.
* iPhoneDrive (Mac) – lets you use iPhone as portable hard drive, ensuring that you always have important info/software with you. To get started check out our massive list of free portable apps 100 Portable Apps for your USB Stick (for Mac and Win) 100 Portable Apps for your USB Stick (for Mac and Win) Read More . (Note: iPhone drive isn't a freeware, costs $9.95)
iPhone WallPapers, iCons and Ringtones
Fun Stuff
(6) iPhone HowTo's
HowTo: Create iPhone ringtones from iTunes previews [tuaw.com]
HowTo: Add custom ringtones/system-sounds to iPhone (intel Mac only) [hacktheiphone.com]
HowTo: Send MMS messages on iPhone [hacktech.wordpress.com]
HowTo: Replicate iPhone Buttons the '-webkit' way [launchpadhq.com]
HowTo: 17 powerful bookmarklets for your iPhone. [lifeclever.com]
HowTo: Turn your Windows Mobile phone into an iPhone [lifehacker.com]
HowTo: Emulate iPhone's features on your everyday handset [techcrunch.com]
HowTo: Activate iPhone Without AT&T [nanocr.eu]
HowTo: Set up your iPhone as a prepaid account [tuaw.com]
HowTo: Use the IPhone with a Business or Prepaid Account [reghardware.co.uk]
HowTo: Port 'ineligible' mobile numbers to AT&T and iPhone [appleinsider.com]
HowTo: Make iPhone work with old Cingular SIM (intel Mac only) [hacktheiphone.com]
iPhone Reviews
in-depth reviews:
guided video tours:
things you should know before buying iPhone:
comparative reviews (iPhone vs…):
stress tests: (bunch of tests to check how the device handles abuse)