Advertisement
I format my Mac once a year, either because it's clunked up with old .plist files or because I just feel like performing a zero-out on my hard disk. One good thing about owning a Mac is never having to worry about installing drivers after reformatting. So that's one problem avoided. Having a checklist of applications to install is quite handy to get my Mac up and running as quickly as possible. So, I'd like to share the applications I consider to be essential:
(1) NeoOffice
Get right back to work! It's an open source set of office applications (word processing, spreadsheet, presentation) for Mac OS X. It also supports editing of Microsoft Office 2007 files so you don't need to quiver in fear when your colleague hands .docx files over to you.
Perian is known as the 'Swiss-army knife for Quicktime' because once installed, Quicktime can be used to play nearly every format of video there is, except WMV. So that is why I paired this entry up. Together with Flip4Mac, Quicktime is all geared up and good to go.
[NO LONGER WORKS] VLC Player is also an option if you don't like using Quicktime. With VLC, you can set playlists, boost the volume until 200%, zoom in and change the aspect ratio of the video, so generally it's more powerful. However, I feel that VLC takes slightly longer to load, that's why I choose Quicktime for everyday use.
(3) UnRarX
I can't even begin to describe how much I love this app. Similar to Stuffit Expander, UnRarX is a .rar decompression utility. I prefer it to Stuffit Expander because I find it easier to use, it handles segmented .rar archives, and it even manages to decode archives which failed with Stuffit Expander!
(4) Adium
Feeling the shakes? Withdrawn from instant messaging? Adium is an IM app that is connects to almost all popular IM protocols (AOL, MSN, Yahoo, ICQ, Jabber, Google Talk, Gadu-Gadu etc.). It's so customizable that you can make it match your favorite wallpaper, if you need to. Check out some screenshots here.
(5) Gmail Notifier
Normally, I use Apple Mail with IMAP to get my mail directly onto my Mac. But for those who don't want to go through the hassle of setting up an IMAP account, Gmail Notifier is quick and easy to use.
(6) Image Shackle
Want to change your profile picture on Facebook? Darn, that photo is just too large! I use Image Shackle to instantly resize my images. It's a dashboard widget, so wherever the photo is, just click-and-hold it, press F12 and drop it into Image Shackle, set the size of the output photo and click Shackle! Easy, isn't it?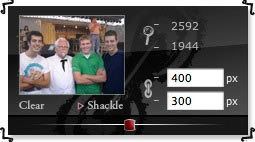 Image Shackle only resizes a photo at a time to any default size you set. And it doesn't do cropping, so you can't use it for heavy-duty image processing.
(7) Transmission
A lightweight yet functional BitTorrent client that's open source, so it will also run on Linux and BSD systems. This is an alternative to the famous Azureus, for those who don't like the bloated-ness of Java. On the surface, Transmission seems to be simple but if you dig a little deeper, you'll notice that it has some pretty cool features like speed restriction at certain times of the day and Peer Exchange (similar to Azureus's DHT).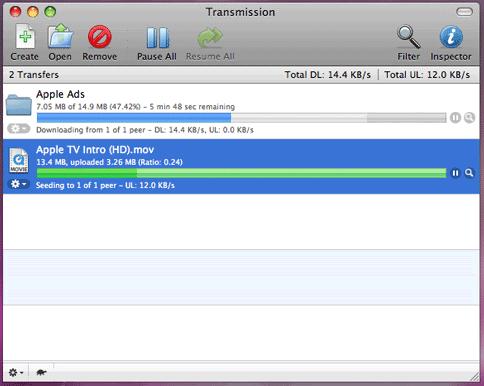 (8) Skype
Need I say more? The most popular VoIP application out there.
Leopard's Quick Look feature is really useful when you want to preview photos, videos or even Word and PowerPoint documents. But .zip files still need to be unzipped before you can tell what is really inside. This plugin allows you to view the contents without having to unzip anything. It comes in handy after you've downloaded .zip files from dodgy sites and would like to check out what they contain before releasing them into your system.
(10) MenuMeters
This is normally the first application I install. It's a set of monitoring tools and reads system information like CPU load, memory usage and network activity and it sits subtly on the menu bar. If you're a control freak like me, then you'd want to know if a process is taking up 100% of your CPU resources.
All these applications are free and available for Mac OS X Leopard. I hope you found this list useful. If there are any other applications I may have missed or better than the ones here, let me know in the comments.
(By) Jackson Chung is a full-time med student attempting to perform a juggling act with relationship, studies and his future.